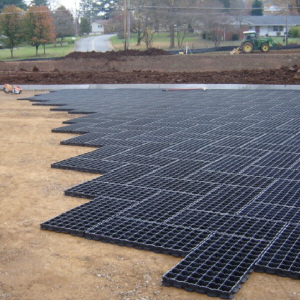 GeoCHEM carries two porous pavement product lines depending on your specific needs: GeoBlock®, and GeoPave® porous pavement systems.
The GeoBlock® Porous Pavement System is a series of interlocking, polyethylene paving units designed to provide superior load support and turf protection for emergency and utility access lanes, auxiliary parking, golf cart pathways, trails, and other high-use application areas.
The GeoPave® Porous Pavement System with aggregate or an aggregate / topsoil engineered infill, provides a permeable, stabilized surface for vehicular and pedestrian load support.