POLYMERS & SLURRIES FOR ASPHALT & CONCRETE REPAIRS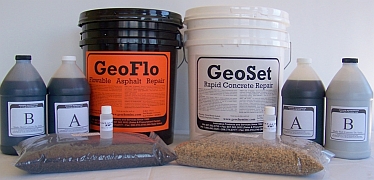 RAPID LOAD BEARING REPAIR OF ASPHALT & CONCRETE
FAST DURABLE REPAIRS for ROADS & BRIDGES
TRAFFIC READY IN 10 MINUTES!
PERCOL Is a Rapid Repair and Restoration Polymer & Slurry for Roads, Highways, Bridges, Airport Runways and Much More. Percol Machine Dispensed Versions are Traffic Ready In 10 Minutes. Percol hand-mixed versions are traffic ready in 1 hour and are great asphalt and concrete repair products for homeowners who would like to do work without the expense of hiring a contractor! Percol is an effective and efficient asphalt and concrete load bearing repair polymer and slurry. Highway and road closures are greatly minimized. Percol asphalt and concrete repair products are Department of Transportation approved by material labs and maintenance departments for our U.S. highways, bridges and roads, DOT approved sealants, US armed forces approved for military runways, aprons and taxiways. Percol asphalt and concrete repair products provide a long term load bearing rapid repair solution for your concrete andd asphalt restoration needs. various Percol products are available in both machine dispensed and hand applied versions for commercial and private use. Percol repair, resurfacing and sealing!
Click here for the Percol Story and Testimonials.
SOME ASPHALT & CONCRETE REPAIR APPLICATIONS:
Armored Nosing and Joint Repair
Control Joints
Deep Spall Repair
Full Depth Crack Repair
Header and Joint Replacement
Joint Repair Using Existing Headers
Protective Surface Overlay
Slip Joint Surface Repair
Traffic Sensor Loop
See ALL of our Asphalt Repair and Concrete Repair Products under our Product Line Menu.