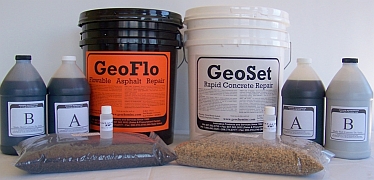 RAPID PERMANENT LOAD BEARING REPAIR OF ASPHALT & CONCRETE | FAST DURABLE REPAIRS FOR OUR ROADS, BRIDGES, RUNWAYS, BYWAYS AND HIGHWAYS | TRAFFIC READY IN 10 MINUTES!
PERCOL Is a rapid repair and restoration polymer AND slurry for roads, highways, bridges, airport runways and much more.
Percol machine dispensed commercial version repairs are traffic ready In 10 Minutes greatly reducing lane closure time and for large volume repair of damaged concrete and asphalt. Our Percol hand-mixed versions are traffic ready in 1 hour and are a great for asphalt and concrete repair for the DIY projects or by a contractor wanting to do the installation without the expense of additional dispensing equipment for larger scale projects.
Percol is an effective and efficient asphalt and concrete load bearing repair polymer and slurry.
Highway and road closures are greatly minimized. Percol asphalt and concrete repair products are Department of Transportation approved sealants by material labs and maintenance departments for our U.S... highways, bridges and roads and our U.S... armed forces for our worldwide U.S.. military airbase and international airport runway, apron and taxiway repair.
Percol asphalt and concrete repair products provide a long term load bearing rapid repair solution for your concrete and asphalt restoration needs. Various Percol products are available in both machine dispensed and hand applied versions for commercial and private use. Percol repair, resurfacing and sealing!
Highway and DOT Repairs on extensive large volume damaged pavements are repaired quickly and easily with our polymers and our portable upright VariFlo dispensing machine

Percol concrete and asphalt product solutions are highly regarded and are used worldwide for highways, roads, bridges, runways, decking, rail crossing, construction and planning.

Percol c

oncrete and asphalt repair products are b

ased on research and development w

ith the U.S.. Airforce for the rapid repair and restoration of bomb damaged runways for 33 NATO Air Bases in Europe. The Full Percol Story with Testimonials
---
ASPHALT & CONCRETE REPAIR APPLICATIONS (PDF Doc's):