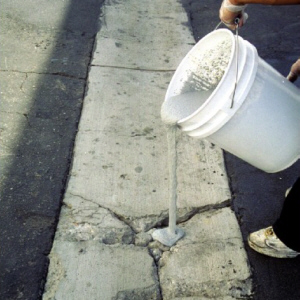 CONCRETE REPAIR POLYMERS & SLURRIES
AN EXPLANATION AS TO HOW PERCOL POLYMERS WORK WITH CONCRETE
Most of the Concrete Repair testing has to do with hardness, bonding strength, cure time and overall finished PSI. The advantage of using a flexible material, such as Percol, is that it has three (3) times the "Modulus Of Rupture" of traditional PCC and as such is more flexible and actually performs better because it DOESN'T meet the required PSI or hardness requirements of finished Concrete.
The majority of traditional early strength repair materials prematurely fail because they are too rigid. Rigid repair materials installed in a rigid pavement require that the materials have similar coefficient of expansion. Most do not and, as a result, destroy the repair and the surrounding concrete. Additionally, load transfer, between the repair and the surrounding cementitious material is easier to achieve because of the flexibility and enhanced load diffusion properties of the flexible repair material.
GeoSet, along with our Percol Polymers (i.e. Percol Dopey Soup, Percol Elastic Cement), provide a flexible repair that will deflect as surrounding concrete expands and contracts, rather than destroy it. Though it deforms under load, GeoSet along with our Percol Polymers (i.e. Percol Dopey Soup, Percol Elastic Cement), have memory and as such will return to its original form.
When we describe the material and why it works, we always say it's almost like installing a small shock absorber into the concrete that helps absorb the load at point of impact (a large heavy truck for example) and facilitates that transfer of energy, from the moving object, to the rigid pavement. With a traditional cement repair, that "Shock Absorber" principle is not applicable.
CONCRETE REPAIR APPLICATIONS:
Concrete Pothole Repair, Concrete Spall Repair, Broken Concrete Repair, Concrete Crack Repair, Concrete Floor Repair, Concrete Parking Deck Repair, Concrete Highway Repair, Concrete parking Lot Repair, Concrete Driveway Repair, Concrete Sidewalk Repair, Level Uneven Concrete Repair, Concrete Highway Shoulder Repair, Concrete Bridge Repair, Concrete Walkway Repair, Concrete Airport Runway Repair, Concrete Playground Repair, Concrete Ramp Repair, Concrete Loading Dock Repair, Concrete Slab Repair, Concrete Equipment Bases, Foundations
1204 PERCOL Dopey Soup is a hand mixed version of Elastic Cement and is supplied in convenient six packs (3 half gallons each of "A" and "B"). Combined with aggregates, it forms a high performance, quick setting, flexible polymer concrete. Within an hour of placement, durable repairs are ready for traffic. Withstands vibration, heavy traffic loads, and thermal movement. Available in Gray and other colors on special order. Used in control joints. For repair of Concrete and Asphalt.
Also available in 21 oz Dual Cartridge Kits P/N 1206.
Click here for 21 oz Cartridge Mixing Instructions.
Click here for Technical Data Sheet and mixing instructions.
Click here for Safety Data Sheet.
1208 PERCOL GeoSet Rapid Concrete Repair Slurry is supplied in five gallon kits. Geo-Set is for repair of concrete spalls and restoration of concrete at the joints. Odorless, non-flammable, fast curing & strong, this concrete repair kit is a pourable slurry that is easily poured into wide cracks and spalls. It bonds without priming. Broadcasting uniformly graded sand on uncured Geo-Set creates a high traction surface. Supports traffic in one hour!
Percol GeoSet Concrete Repair Kit Includes Everything You Need To Complete Your Concrete Repair!
Click here for Technical Data Sheet and mixing instructions.
Click here for Safety Data Sheet.
Click here for Crack Calculator, Product Calculator, and Coverage Chart.
Concrete Repair Aggregate Topping Sand for Anti Skid Wearing Surface to Keep Your GeoSet Concrete Slurry, Concrete Welder, and Elastic Cement Polymer Gray.
Use for an anti-skid and wearing surface by topping the repair (while wet and before set up of polymer or slurry) with our Concrete Topping Sand. Mix your materials and apply as you would with our standard process. Use topping sand generously on the GeoSet, Concrete Welder & Elastic Cement Polymers with our Concrete Topping Sand. When the material has set up, sweep off access sand and your concrete repair is ready. We recommend that you use our specially-coated sand because it bonds better to our products than other sands. If a gray repair is essential, use Concrete Topping Sand!
Available in 12 pound bags.
Click here for GeoFlo / GeoSet Application Video #1
Click here for GeoFlo / GeoSet Application Video #2
Note: These video demos are for GeoFlo Asphalt Repair Slurry, and/or GeoSet Concrete Repair Slurry. The mixing procedures are the same for both GeoFlo and GeoSet.