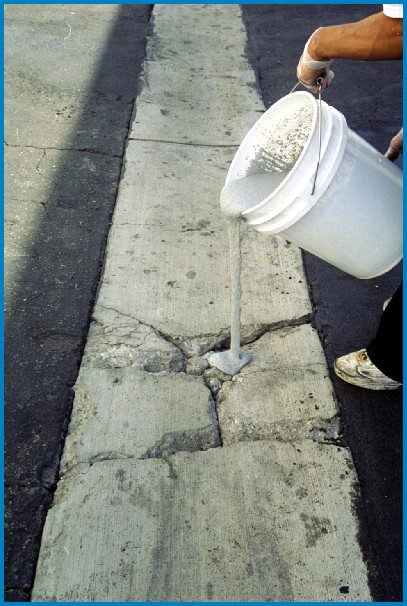 Percol GeoFlo Rapid Asphalt Repair Slurry
Hand mixed GeoSet combines polymers with a specially-treated aggregate to create a rapid-setting, easy-to-apply, long-lasting and durable concrete repair. Repairs can be completed in a matter of minutes, using only a few simple steps.
Originally developed for the military as a rapid runway repair material, GeoSet and Geo-Flo (a rapid asphalt-repair material) have become an inexpensive alternative to traditional divot, cracking and concrete restoration procedures. This innovative process provides a modern solution for an age-old problem. GeoSet provides a long lasting repair.
GeoSet concrete repairs utilize a naturally rounded sand, which is treated with a single componenent polymer. This type of coated aggregate greatly enhances flow ability and increases the overall strength of the repaired area. Available for purchase in five-gallon kits , GeoSet Concrete Repair Kits contain pre-measured amounts of polyurethane and aggregate in each container. The 5-gallon kit will deliver 0.4 cubic feet which will cover approximately 50 square feet at a thickness of 1/8″. For deeper repairs add 25 lbs. of our specially-coated Black Rock aggregate and mix well. This will increase your coverage to 0.6 cubic feet.

Mix the components of the GeoSet kit in the pail provided, using a hand drill, or our low-cost Motor Mix Machine. GeoSet has about a 6-8 minute working time at 75ºF. In just minutes, repair concrete damage using GeoSet, with just a few simple steps. There is no need for saw cutting or removal, simply sweep or blow out the damaged area before you begin. GeoSet has no fumes and does not require the use of a primer. The resulting repair can be put back into service in as little as 30 minutes.
Listed below are some of the advantages that GeoSet Rapid Concrete Repair Product offers vs. conventional materials:
Minimal preparation required,

No costly demolition necessary,

Set-up in less than 10 minutes,

Odorless & vapor-less,

Exceptional bond to concrete,

Unaffected by extreme heat or cold,

Seals & waterproofs,

Good chemical resistance to oils, fuels, and antifreeze,

Outstanding durability,

High-traction surface.

GEOSET CONCRETE SLURRY will allow for a rapid and simple repair of concrete damage and aging that would normally require the removal of the concrete pavement. Simply remove any excess dirt and debris from the surface and then pour the GeoSet into the area of repair. GeoSet has a 9 to 12 minute pot life and a 1 hour cure time dependent upon ambient and surface temperatures. The original formula of Percol Elastic Cement and Elastic Cement AC was originally developed for NATO/USAF as a rapid runway repair material. GeoSet has become a very inexpensive alternative to traditional pavement repair and restoration procedures. This innovative process provides for a modern day solution to an age-old problem. Product Repairs are guaranteed to outlast the pre-existing surface. We can not guarantee workmanship by others!
GeoSet Concrete Applications

​Divot, Crack, Concrete Slab, Loading Dock, Ramp., Playground, Walkway, Bridge Deck, Highway Shoulder, Highway, Road, Airport Runway, Taxiway, Apron, Sidewalk, Driveway, Parking Lot, Toxic Waste Containment, Flooring, Maintenance Cover, Spall Repair Applications
GeoSet Concrete Repair Advantages
Creates durable, long-lasting repairs, Seals and waterproofs, Repairs precisely to-grade, Provides smooth transition, High-traction surface, No dig-out, Odorless and vapor-less, Unaffected by water, fuel or oil, Unaffected by hot or cold temperatures, Easily repairs wide and narrow cracks, Ready for traffic in an hour with minimal preparation required, Available in 5 gallon pail kit sizes.
Each GeoSet 5 Gallon Kit Contains:

1. Polymer treated aggregates - 30 pounds
2. 1/2 Gallon bottle of Polymer A
3. 1/2 Gallon bottle of Polymer B
4. Topping Sand Polymer Treated Aggregate - 12 pounds
Note: The mixing procedures are the same for both GeoFlo and GeoSet Products.
Click here for Technical Data Sheet.
Click here for Safety Data Sheet.
Click here for Crack Calculator, Product Calculator, and Coverage Chart.