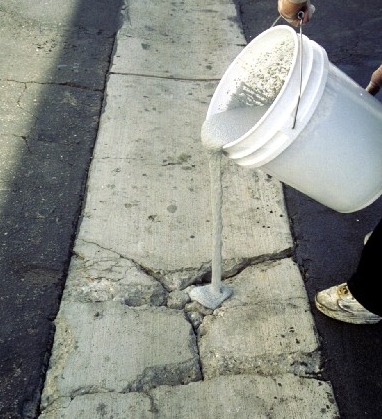 Hand mixed Geo-Set combines polymers with a specially-treated aggregate to create a rapid-setting, easy-to-apply, long-lasting and durable concrete repair. Repairs can be completed in a matter of minutes, using only 4 simple steps.

Originally developed for the military as a rapid runway repair material, Geo-Set and Geo-Flow (a rapid asphalt-repair material) have become an inexpensive alternative to traditional pothole and concrete restoration procedures. This innovative process provides a modern solution for an age-old problem. Geo-Set repairs are guaranteed to outlast the pre-existing surface.
Geo-Set being applied over damaged concrete in Orange County, CA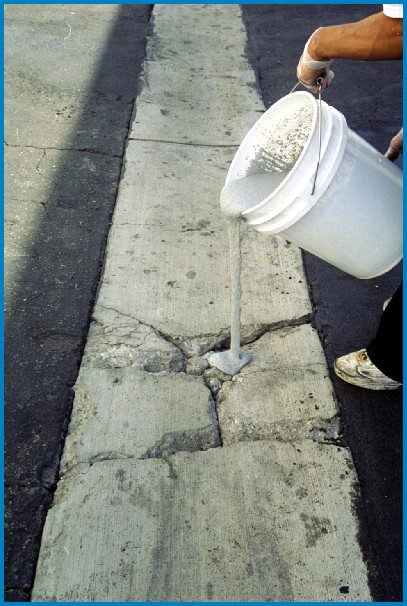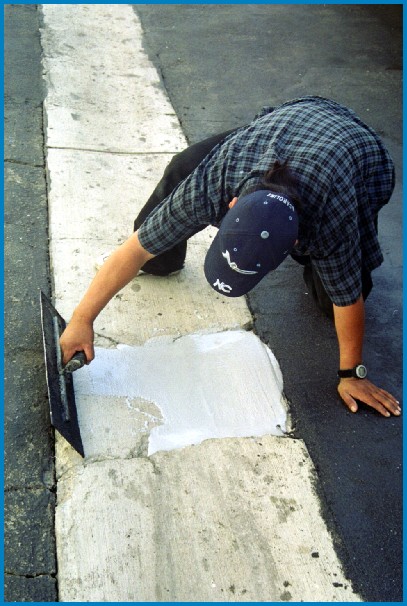 Putting the finishing touches to a Geo-Set repair
GEOSET CONCRETE SLURRY will allow for a rapid and simple repair of concrete damage and aging that would normally require the removal of the concrete pavement. Simply remove any excess dirt and debris from the surface and then pour the GeoSet into the area of repair. GeoSet has a 9 to 12 minute pot life and a 1 hour cure time dependent upon ambient and surface temperatures. The original formula of Percol Elastic Cement and Elastic Cement AC was originally developed for NATO/USAF as a rapid runway repair material. GeoSet has become a very inexpensive alternative to traditional pavement repair and restoration procedures. This innovative process provides for a modern day solution to an age-old problem. Product Repairs are guaranteed to outlast the pre-existing surface. We can not guarantee workmanship by others!
GeoSet Concrete Applications
Concrete Pothole Repair

Concrete Crack Repair

Concrete Equipment Storage Repair

Concrete Slab Repair

Concrete Load Dock Repair

Concrete Ramp Repair

Concrete Playground Repair

Concrete Walkway Repair

Concrete Bridge Repair

Concrete Highway Shoulder Repair

Concrete Airport Aprons & Runways

Concrete Sidewalk Repair

Concrete Driveway Repair

Concrete Parking Lot Repair

Concrete Parking Deck Repair

Concrete Toxic-Waste Containment

Concrete Highway Repair

Concrete Floor Repair

Concrete Maintenance Cover Repair

Concrete Spall Repair

Broken Concrete Repair
GeoSet Concrete Repair Advantages
Creates durable, long-lasting repairs

Seals and waterproofs

Provides smooth, high-traction surface

Requires no dig-out

Repairs precisely to-grade

Odorless and vapor-less

Unaffected by water, fuel or oil; unaffected by hot or cold temperatures

Easily repairs wide and narrow cracks

Ready for traffic in an hour with minimal preparation required

Available in 5 gallon pail kit sizes; available in custom colors
Click here for Technical Data Sheet Click here for Safety Data Sheet.
Click here for Crack Calculator, Product Calculator, and Coverage Chart.