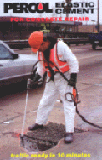 THE PERCOL ADVANTAGE:
PERCOL Elastic Cement, (with aggregates applied before hand) forms a high performance, rapid setting polymer concrete. Within ten minutes of placement, durable, long lasting repairs (that withstand vibration, heavy traffic loads, and thermal movement) are ready for traffic. Solidifies in less than two minutes... The reaction is fast. Thin, equal volume, "A" and "B" side liquids are metered, combined, and pumped through PERCOL dual component dispensing equipment. The reactive mix is PERCOLated over aggregates and solidifies in less than two minutes. It cures to a flexible polymer concrete suitable for spall and pothole repair, matching grades, smoothing rough pavements, and eliminating rutting. Feathered repairs provide transition for mismatching grades of adjacent slabs. Thin overlays easily formed... Concrete damaged by overloading, freeze/thaw spalling, or fires is easily resurfaced. Decks are sealed and waterproofed. High traction surfaces are easily created.
Bonds without Primer - No priming is required for bonding to concrete, steel or wood.
Seals and Protects

-

Creates flexible waterproof repairs that protect concrete from freeze/thaw spalling and stop corrosion of reinforcing steel. Smoothes rough surfaces. Restores traction surfaces.
Fast Repairs and Curing

-

Solidifies in less than 2 minutes. Traffic ready within 10 minutes of placement.
Repairs Year Round

-

Successful repairs in freezing weather or in the heat of summer.
Safe to Use, No Odor

-

PERCOL Elastic Cement has a high flash point, contains no peroxides or heavy metals, and is odorless. There are no toxic fumes during application.
"A" and "B" components are packaged in equal volumes in 55 gallon drums, 15 gallon barrels, or 5 gallon pails. Shelf life is 12 months in unopened containers stored indoors. For small jobs apply PERCOL Elastic Cement from 21 or 53 ounce cartridge kits with hand operated dispensing guns.
---
INSTRUCTIONS:
Read Material Safety Data and the Installation Instructions before using product. PERCOL Elastic Cement can be used in summer or winter. For best performance, install at 20 degrees F. to 100 degrees F. ambient temperature and 60-80 degrees F. material temperature. Do not apply during rain or on wet surfaces.
---
BULK APPLICATION EQUIPMENT:
Our PERCOL Dual Proportioning Dispensing Systems transfers, meters, mixes and applies PERCOL Elastic Cement. "A" and "B" components are transferred from drums, through the proportioning pumps, (1:1 ratio) to the dispensing gun. Material is mixed at the gun, then dispensed into the concrete surface to be repaired.
---
PERCOL ELASTIC CEMENT APPLICATIONS:Spall & Pot Hole Repair
Remove loose and unsound concrete by jack-hammering.

Blow out dust with dry compressed air.

Fill with clean, dry, dust-free crushed rock to grade.

Flood with PERCOL Elastic Cement.

Broadcast dry sand for high traction surface and to match deck appearance.
Bridge Deck Overlay Repair
Saw cut damaged overlay and remove.

Sandblast deck surface.

Place crushed aggregate level to surface

Flood with PERCOL Elastic Cement.

Broadcast dry manufactured sand to match deck texture.
Bridge Deck Overlays
Repair spalls and cracks.

Shot blast deck to clean deck surface and expose aggregate.

Spray 30 - 40 mils of PERCOL Elastic Cement & cover with uniformly graded, clean, dry aggregate (3/16" to 1/4").
Remove excess aggregate. Cover first aggregate layer with PERCOL Elastic Cement then cover again with aggregate.

Remove excess aggregate

Cover with light coat of PERCOL ELASTIC CEMENT to secure aggregate.
Restoring Traffic
With PERCOL Elastic Cement, traffic can resume within 10 minutes of completion of work.
---
TYPICAL PROPERTIES: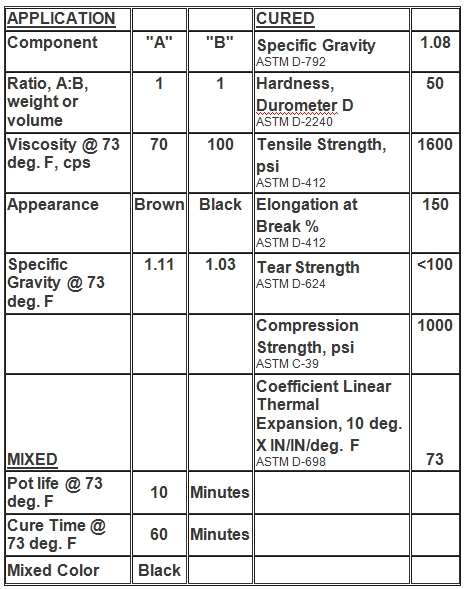 Click here for SDS. Click here for Technical Data Sheet.
SOME ASPHALT & CONCRETE REPAIR APPLICATIONS:
Armored Nosing and Joint Repair
Control Joints
Deep Spall Repair
Full Depth Crack Repair
Header and Joint Replacement
Isolation Joint At Retaining Wall
Joint Repair Using Existing Headers
Protective Surface Overlay
Slip Joint Surface Repair
Traffic Sensor Loop