PERCOL DUAL TWIN PACK CARTRIDGES

Percol Twin Pack Cartridges Can Be Loaded with Any of our Concrete or Asphalt Polymers: Elastic Cement, Concrete Welder, Dopey Soup, Asphalt Welder, Elastic Cement AC, Allligator Glue.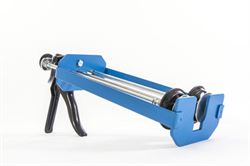 Fast, Simple, Concrete Repairs
Repairs Look Great, No Mess!
---
Hand Operated Dual Cartridge Gun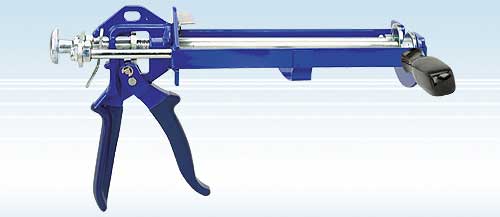 Uses 3/8" case hardened rods and cam. All three rods push the washers for added ease of dispensing product. Supplied with side handle for added stability and can be used on either side.
---
21 oz. Cartridges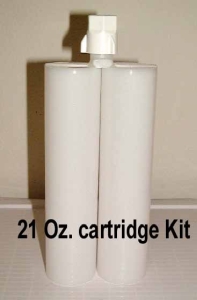 Sealing cracks is simple with Asphalt Welder, Alligator Glue, or Elastic Cement AC for asphalt repairs, or Concrete Welder, Dopey Soup, or Elastic Cement for concrete repairs in dual cartridges.
Make sure the crack is clean and free of moisture. If there is a lot of water, use a blow dryer or torch to make certain the crack is dry. Open cartridge and squeeze directly into the crack. Use a scraper or straight-edge to smooth the material out. Wipe up any excess material and allow to dry for 30 minutes. Now the crack is filled and ready for use.
---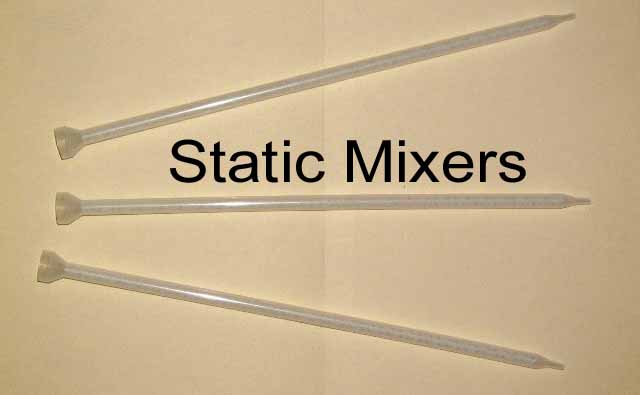 ---
Concrete Welder and Asphalt Welder are low viscosity, penetrating polymers combined with high strength silica fillers to create a simple-to-use repair kit. Repairs cracks, divots, rutting and spalling. One bottle contains polymers, pigments and silica fillers. Another bottle contains the catalyst. A spout is attached for combining, mixing and easy pouring. Neat repairs (without mess) are easily achieved. Repairs are ready for traffic within 30 minutes at 75 degrees Fahrenheit. Click here for instruction sheet.
Concrete Welder Machine Dispensed Version: PERCOL Concrete WelderTM

USES

Concrete Welder Cartridges fill cracks and divots in concrete pavements, bridge decks, and concrete floors. It seals concrete to stop freeze thaw spalling and chemical attack. PERCOL Concrete Welder repairs are fast. Traffic can resume within 30 minutes.

Bonds without Primer: No priming is required for bonding to concrete, asphalt, steel, or wood.

Seals and Protects: Waterproofs, protects from freeze/thaw spalling. Smoothes rough surfaces. Restores traction surfaces

Fast Repairs and Cure: Pourable for 5 minutes. Solidifies in less than 10 minutes. Ready for traffic in 30 minutes.

Repairs Year Round: Successful repairs can be completed in cold or hot weather.

Safe to Use, Low Odor: No flammable components. There are no peroxides or heavy metals. There is little odor on application, and it is safe to use. See product safety data for more information.

Chemically Resistant: Resists dilute acids and alkalis; and deicing salts, gasoline, diesel, fuel, and lubricating oils will not penetrate treated areas.

MIXING INSTRUCTIONS

1. Cut Tip of Static Mixing Tubes to Desired Opening. The size of your repair will determine the opening size of your spout.

2. Repair Concrete. Squeeze contents of cartridges into cracks and damaged concrete flush to grade. For a concrete like surface, sprinkle with fine sand. For high traction surface use larger sand.

4. Cure. Allow about 30 minutes for cure at 75 degrees Fahrenheit.

Working Time is about 8 Minutes

Typical Cured Properties

| | |
| --- | --- |
| Specific Gravity, ASTM D-792 | 1.8 |
| Tensile Strength, psi, ASTM D-412 | 6500 |
| Elongation at Break (%), ASTM D-412 | <10 |
| Tear Strength, ASTM D-624 | 450 |
| Compression Strength, psi, ASTM C-39 | 7250 |
| Bond Strength to PCC, psi | 350 |

KEEP OUT OF THE REACH OF CHILDREN