CREATE SUSTAINABLE ENVIRONMENTS & STABILIZING CHALLENGING ENVIRONMENTS WITH REINFORCED SURFACES.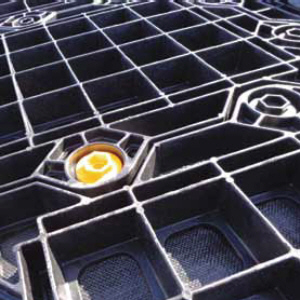 GEOTERRA GTO: FAST IN, FAST OUT Site Access Mats
Create site access fast and easy with GEOTERRA® GTO mats – the safest portable construction mats – without the need for heavy equipment to deploy or install. Bolt connections make it easy to build mats the right size for access roads, work platforms and tracking pads, and the mats protect grass for temporary vehicle access. GEOTERRA Mats are built with a high crush and flexural strength that supports heavy construction vehicles at 40-70% lower cost than heavier composite or timber mats – even over soft ground!
1) BASIC COMPONENTS
GEOTERRA Units • PadLoc Connection Device • Stakes or Earth Anchors (optional)
2) OPTIONAL GEOSYNTHETIC UNDERLAYER COMPONENTS
Geomembrane • Non-Woven Geotextile/Geomembrane • Single or Multiple Layers of Geotextile
3) OPTIONAL DRAINAGE COMPONENTS
Non-Woven Geotextile • GEOTERRA Drainage System • High-Strength Woven Geotextile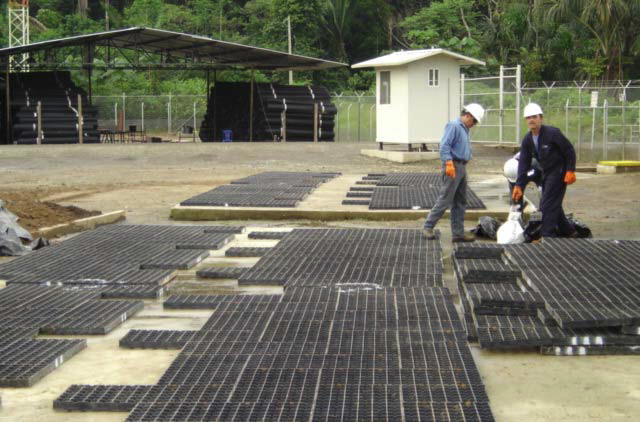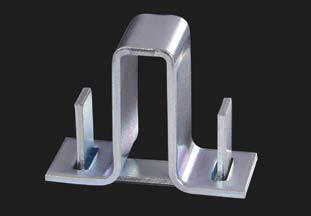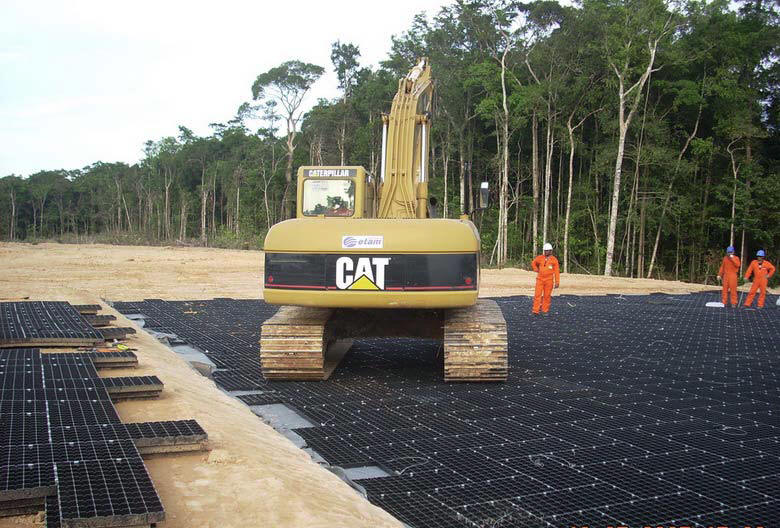 TYPICAL APPLICATIONS
Temporary or Permanent Use • ATV Trail Hardening (see Tales From the Tundra" article [in Kwigillinook, Alaska]) • Access Roads over Soft Ground and Remote Locations • Oil-drilling Platforms • Construction Site Access • Cemetery and Utility Access over Lawns • Light-to-Heavy Equipment and Vehicle Storage • Helipads • Equipment and Vehicle Display at Expos and Special Events • Emergency Site Access
ONLINE VIDEOS:
Presto GeoTerra with Crane
Presto GeoTerra Construction Mats for Haul Roads
Presto GeoTerra with Front End Loader
Presto GeoTerra Construction Mats Protect Environmentally-Sensitive Wetland
Presto GeoTerra Equador
GEOTERRA BROCHURE's & SPECIFICATION SUMMARY:
GeoTerra Structural Mat Brochure 1
GeoTerra Structural Mat Brochure 2
GeoTerra Specification Summary
GeoTerra Anchor Detail
ATV Trail Stream Crossings - Association of Conservation Engineers (.pdf) Description, Qualitative Environmental, Maintenance, and Cost Comparison of 17 Alaska Trail Hardening Methods. Draft: Kevin G. Meyer, NPS-Rivers, Trails and Conservation Assistance Program, Anchorage, Alaska updated 2/8/2007. Selected Trail Hardening Methods Number 1 thru 8 - Pages 1 thru 5.
TALES FROM THE TUNDRA Article (in Kwigillinook, Alaska)
"Tales From the Tundra" article (in Kwigillinook, Alaska). This article highlights advantages of the GEOTERRA system that allowed it to meet the project criteria:
Can support all-terrain vehicles over soft & uneven ground

Allows vegetative growth through the open design

Provides support even when unfilled