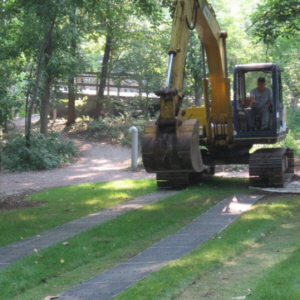 Protect grassed areas from pedestrian and vehicle traffic. Protect turf from light-weight construction equipment and reduce mud tracking from construction sites. Access difficult sandy and soft soil areas. GeoRunner® Surface Protection Mats are portable, economical and drivable construction mats that every contractor will want. The light-weight (8 lbs), easy-to-handle size makes them ideally-suited for transporting to construction sites.
CONSTRUCTION ACCESS MATS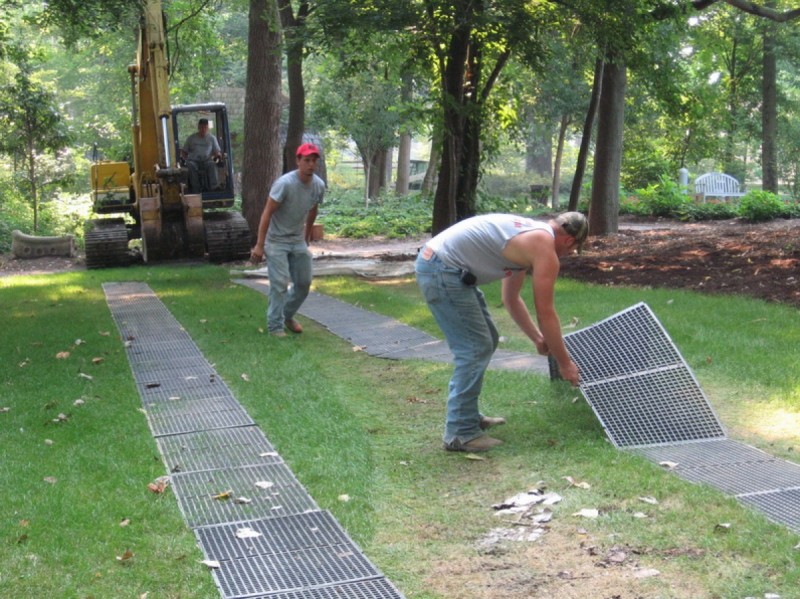 GeoRunner mats minimize turf damage and soil compaction caused by concentrated light-to-medium loads from pedestrian foot traffic, equipment and vehicles. Contractors prefer them over plywood because they can be quickly removed from sites, cleaned, stored and reused numerous times. View Installation Guide
Excellent for temporary or permanent, light-weight applications, GeoRunner mats are also useful for creating storage surfaces for small trailers, boats, and other items.
GeoRunner Material: Polymer (See specifications and other design and construction tools below).
GeoRunner Unit Size: 2 ft. x 4 ft. (.6m x 1.2 m), 8 lbs (3.6 kg).
GeoRunner mats are also beneficial for flow protection. Click for more information.
If heavier-weight construction mats are desired, check out the GeoTerra® system.
Explore how the Presto Geosystems products create the right solutions for you and your customers.
GeoRunner Key Applications
Construction Access over Turf

Landscape Equipment and Vehicle Access over Lawns or Sandy Areas

Barrier Free Access

Concentrated Foot Traffic during Special Events

Sports Fields Sidelines

Storage Pads for Boats and Trailers
Green Solutions
Polypropylene material is easily cleaned for multiple uses and doesn't damage or absorb water and soil like plywood.

High percentage open area allows sunlight and water to permeate, maintaining healthy turf.

Small mesh opening is ideal for barrier-free access.
GENERAL INFORMATION: GeoRunner Overview
SPECIFICATIONS: GeoRunner Surface Protection Specification CSI-format
Submit Geoblock®, Geoweb®, GeoPave®, GeoRunner® or GeoTerra® Project Information:
Submit Project Information Project information will be placed in Presto's Project Library as reference and will be considered for case studies and/or magazine editorials.
PRESTO GEOSYSTEMS FULL PRODUCT LINE CATALOG