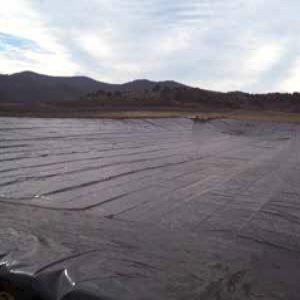 GeoCHEM Linear Low Density Polyethylene (LLDPE) liners provide high elongation, tremendous tear resistance and bursting strength. Our LLDPE liners are made from very flexible materials that will conform to almost any surface. We have a very large selection of LLDPE liners to choose from: Reinforced LLDPE, Unsupported LLDPE, Woven - Coated LLDPE
FREE SHIPPING TO THE CONTINENTAL US (EXCLUDING ALASKA & HAWAII) FOR ALL SUPPORTED AND NON SUPPORTED LLDPE LINERS, WEIGHING 10,000 LBS OR GREATER! SOME RESTRICTIONS APPLY.
Please Use This Form To Contact Us With Your Liner Needs and Questions, and feel free to Contact Us to request individual samples for any of the products listed.
Check our Application categories on the left for ALL available geomembrane liners.
---
LLDPE Installation Guide for LLDPE 20, 30, and 40 mil unreinforced, and GeoSkrim J30, J36, and J45 reinforced liners.
Installation Guide for all other LLDPE liners.

INSTALLATION GUIDELINES for VAPOR BARRIERS:
Under Slab Vapor Barrier Installation Guide
Geo Vapor Installation Guide
Geo Vapor Plus Installation Guide
Geo Vapor Green Installation Guide
Accessories, Tapes, Tarp Grabbers, Etc.
NOTE: A minimum order of $600.00 USD applies to all Linear Low Density Polyethelyne (LLDPE) Geomembrane Liner orders.