PERCOL Dopey Soup is the hand mixed version of Elastic Cement, combined with aggregates to create a high performance, quick setting, flexible polymer concrete. Within an hour of placement, durable, long lasting repairs are ready for traffic. Withstands vibration, heavy traffic loads, and thermal movement.
Solidifies in about 10 minutes... The reaction is fast. Equal volume, "A" and "B" liquid polymers are combined. Mix is allowed to warm before pouring over aggregates. The mass solidifies in about 10 minutes and cures to a flexible polymer concrete suitable for repairing spalls and potholes, matching grades, smoothing rough pavements, and repairing rutting. Product can smooth mismatching grades of adjacent slabs.
Thin overlays easily formed... Concrete cracked and damaged by overloading, freeze/thaw spalling, or fires can be easily resurfaced Decks are sealed and waterproofed. High traction surfaces arc easily created.

BEHIND THE NAME DOPEY SOUP
I thought I'd give our visitors a little product history behind the name Dopey Soup. The name was given to our concrete polymer as it was used in a 'mold' to create some creepy figures in the Disney movie titled as: 'Something Wicked This Way Comes'. The movie is based on a Ray Bradbury novel by the same name.
As the story goes, an art director was working with Buena Vista Pictures and needed a flexible and fast-setting material that could be colorized and mixed easily. They needed to be able to use the material without technical expertise and it had to be fume-free as they would be using it in the studio. They used some existing Disney molds to test the material and created some small toys, including an old-fashioned looking Mickey Mouse. They also made a Pluto and presumably a Dopey (one of the seven dwarves). Because Disney is by nature fun, they wanted the polymer to have a fun name, so Disney called it "Dopey Soup" and we currently market our Concrete Polymer as Percol Dopey Soup. Now you Know!
APPLICATIONS
PERCOL Dopey Soup is for repair of asphalt & concrete. Can be placed thick or thin. Suitable for crack repair.
Bonds without Primer No priming is required for bonding to concrete, steel, or wood.
Seals and Protects Creates flexible waterproof repairs that protect concrete from freeze/thaw spalling and stop corrosion of reinforcing steel. Smooths rough surfaces. Restores traction surfaces.
Fast Repairs and Cure Solidifies in about 10 minutes. Traffic ready within about one hour of placement.
Safe to Use, No Odor PERCOL Dopey Soup has a high flash point, contains no peroxides or heavy metals, and is odorless. There are no toxic fumes during application.
PACKAGING:
Kits comprised of equal volumes of "A" and "B" components are packaged in 55 gallon drums, 15 gallon barrels, or 5 gallon pails. Stored indoors, shelf life is 12 months in unopened containers. For small jobs use PERCOL Dopey Soup from cnvenient Six Packs (3 each 1/2 gallons of "A" and "B" components).
INSTRUCTIONS:
Read Material Safety Data and the Installation Instructions before using product. PERCOL Dopey Soup can be used in dry weather only. For best performance, install at 50 deg. F. to 100 deg. F. ambient temperature and 60- 80 deg. F. material temperature. Do not apply during rain or on wet surfaces.
REPAIRING CONCRETE:
1. Remove loose and unsound material.
2. Blow clean with dry compressed air.
3. Fill with clean, dry crushed rock to grade.
4. Flood with PERCOL Dopey Soup.
5 Add sand topping for high traction surface and to match deck appearance.
Caution: Apply only on dry surfaces
TYPICAL PROPERTIES: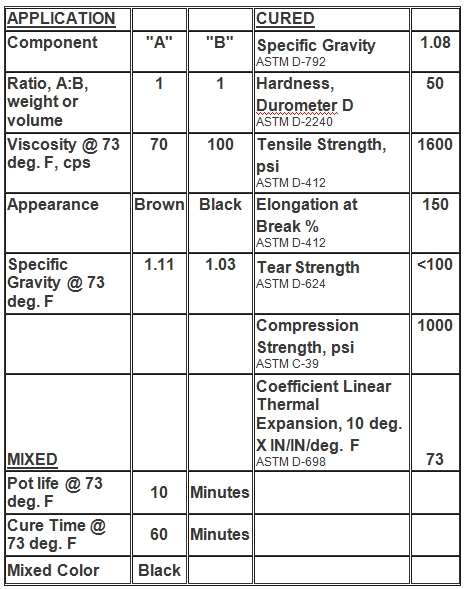 Also available in 21 oz Dual Cartridge Kits
Click here for Safety Data Sheets
Click here for Technical Data Sheet
SOME ASPHALT & CONCRETE REPAIR APPLICATIONS:
Armored Nosing and Joint Repair
Control Joints
Deep Spall Repair
Full Depth Crack Repair
Header and Joint Replacement
Isolation Joint At Retaining Wall
Joint Repair Using Existing Headers
Protective Surface Overlay
Slip Joint Surface Repair
Traffic Sensor Loop