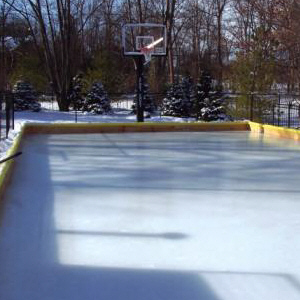 Type 1-HR8 Ice Rink Liner (8 Mil Reinforced / Rip Stop)
Multi-Season Ice Rink Liner Recommended for Your Backyard




TYPE 1 HR8 LINER COST: $0.155/SF + Freight.
Type 1-HR Reinforced Geo Ice Rink Liners are economical, Super White Reinforced 8 Mil film designed for your backyard ice & hockey rink with excellent puncture resistance and high tear strengths. A heavy-duty scrim reinforcement, laminated between two layers of virgin high-strength polyethylene film, results in a material that resists punctures and immediately stops tears. The addition of ultra violet inhibitors to our Type 1-HR Reinforced Geo Ice Rink Liners, respectively, increases outdoor longevity. Type 1-HR8 Reinforced Geo Ice Rink Liners is an excellent choice for applications requiring greater performance than common 10 mil plastic sheeting. This ice rink liner is guaranteed to remain flexible at 70 degrees below zero. Minimum Use Temperature: Minus (-) 70 Degrees F. Type 1-HR8 Reinforced Geo Ice Rink Liners are available in a variety of widths and lengths. All panels are accordion folded and tightly rolled on a heavy duty core for ease of handling and time -saving installation. Type 1-HR8 Reinforced Geo Ice Rink Liner available dimensions:
AVAILABLE WIDTHS: 6' increments starting at 24' Width (i.e. 24', 30', 36', 42', 48', 54', 60', 66', 72', 78', 84', 90', Etc…)
AVAILABLE LENGTHS: 5' increments starting at 50' length with a maximum of 500' (i.e. 50', 55', 60', 65', 70' Etc…)
STOCK WIDTHS: 24' & 36' Wide X Length (Ships Approx: 24 - 72 Hours)
Note: Please keep in mind your backyard or commercial ice rink will be smaller than your Ice Rink liner. Estimate an additional 5' of ice rink liner in both width and length to obtain the ice rink size you desire.
NOTE: THERE IS A MINIMUM ORDER OF 50 LINEAL FEET X Width AND a Minimum Purchase of $600.00 or More.
Click for Type 1-HR8 Product Data Sheet