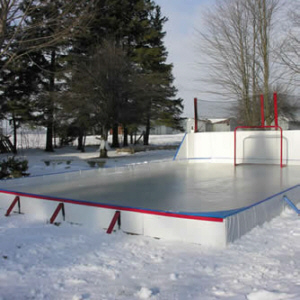 Type III C Geo-Ice Rink Liner (12 Mil Reinforced / Rip Stop)
Multi-Season Ice Rink Liner Recommended for Park & Recreation Applications





TYPE III C LINER COST (UP TO 10,000 SF): $0.2318/SF + Freight Inbound Destination of Choice.
TYPE III C LINER COST (10,001+ SF): CALL FOR PRICE OR CONTACT US.

Type III-C Geo Ice Rink Liners consist of two sheets of high strength white/black virgin polyethylene film laminated together with a third layer of molten polyethylene making an excellent commercial ICE & hockey rink liner. The white upper layer contains UV inhibitors and thermal stabilizers to enhance outdoor life and is also designed to reduce heat buildup and condensation while reflecting light. A heavy scrim reinforcement placed between the plies greatly enhances tear resistance and increases service life. Type III-C Geo Ice rink Liners heavy-duty diamond reinforcement responds to tears immediately by surrounding and stopping the tear. Type III-C Geo Ice Rink Liners are used in more demanding applications requiring high liner tear resistance for your ice skating & hockey rink. This ice rink liner is guaranteed to remain flexible at 70 degrees below zero. Minimum Use Temperature: Minus (-) 70 Degrees F. Type III-C Geo Ice Rink Liners are available in a variety of widths up to 80,000 square feet. All panels are accordion folded and tightly rolled on a heavy-duty core for ease of handling and time-saving installation. Type III-C Geo Ice Rink Liner available dimensions:
AVAILABLE WIDTHS: 6' increments starting at 24' Width (i.e. 24', 30', 36', 42', 48', 54', 60', 66', 72', 78', 84', 90', Etc…)
AVAILABLE LENGTHS: 5' increments starting at 50' length with a maximum of 500' (i.e. 50', 55', 60', 65', 70' Etc…)
STOCK WIDTHS: 24' X Length (Ships Approx: 24 - 72 Hours)
Note: Please keep in mind your backyard or commercial ice rink will be smaller than your Ice Rink liner. Estimate an additional 5' of ice rink liner in both width and length to obtain the ice rink size you desire.
NOTE: THERE IS A MINIMUM ORDER OF 50 LINEAL FEET X Width AND a Minimum Purchase of $600.00 or More.