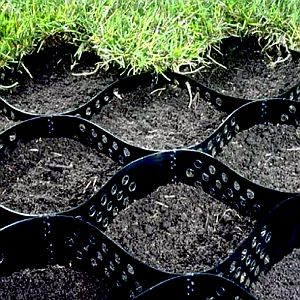 3D Geoweb® Geocell Soil Stabilization System
Cellular Confinement System (CCS), commonly referred to as geocells, were developed by Presto Geosystems in the late 1970's. Developed with the US Army Corps of Engineers: Refer to this document. Presto is the original co-developer of the Geocell Confinement technology. Our competitors often will suggest that they participated in the original development, and so we encourage you to read this document as poof that the Geoweb® Cellular Confinement Systems is the ORIGINAL & GENUINE Geocell Cellular Confinement System. Note: Geoweb was invented in America by Presto Products and the Army Corps of Engineers and has always been manufactured in the USA.
The CCS's 3-dimensional geocellular honeycomb structure confines and stabilizes cohesionless soils, delivering strength and higher performance to soils than when unconfined. The CCS technology is based on the interaction between hoop stresses in the geocell walls and passive earth resistance of single or multi-layered geocell systems. Presto and their partners continue to lead research and development to advance cellular confinement technology for soil stability challenges in a wide range of site applications and markets. You can count on honest project design and construction support from the same people who have protected soils across the globe for three decades. Leading with the highest quality materials, reliable performance and cost-savings innovations.
Geoweb® Section Sizes are available in various cell sizes, depths, and section lengths to most economically meet project requirements.
Geoweb® General Specs & Guides: Specification Summary | Material Specification | SPECMaker Tool | 10-Year Geoweb Limited Warranty | Product Overview
Geoweb® Panel Sizes: Panel Size Chart
Geoweb® Cell Sizes: GW20V Standard Size Cell | GW30V Mid Size Cell | GW40V Large Size Cell
Geoweb® Accessories: Accessories
Geoweb® Product Overview: Product Application Overview
Geoweb® Attributes & Performance: Attributes and Performance
Geoweb® Cross Section Animations: Slope Protection | Load Support | Channel Protection | Reinforced Walls | Gravity Walls
Geoweb® Applications: Load Support | Slope & Shoreline Protection | Channel Protection | Vegetated Retaining Walls

Online Webcast Videos
Protect Slopes Against the Forces of Nature with GEOWEB 3D Soil Confinement System
Rail Ballast Stabilization with the GEOWEB 3D Soil Confinement System
Hard Armor Channels Using the GEOWEB 3D Soil Confinement System
Port & Intermodal Stabilization with GEOWEB 3D Soil Confinement System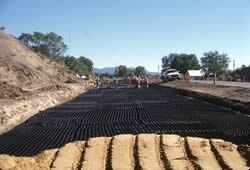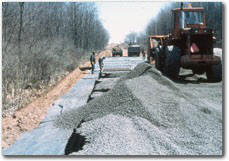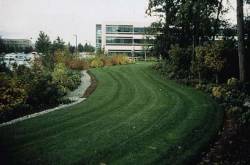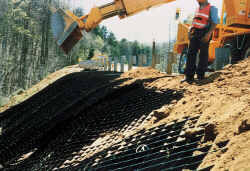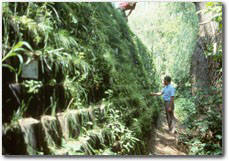 Geoweb® Applications: Demands for cellular confinement technology (CCT) expanded beyond the initial scope of that cooperative work into other areas, including slope and channel protection, earth retention and heavy load support applications with a variety of infill materials. To address these new markets, Presto continued CCT research and implemented product improvements that resulted in today's higher joint strengths, better overall material performance and ultimately higher standards than reported in the original Corps standard. Granular Soft Access Roads, Porous Pavements, Road Sub-Base, Parking Lots, Inter modal Yards, Track Sub-Ballast, Boat Ramps, Foundation Mattresses, Dike & Levee Fortification, Concrete Channel Lining And Protection, Fish Spawning Stabilization, Creek And River Bank Stabilization, Erosion Control on Steep Slopes, Erosion Protection, Composite And/Or Gravity Retaining Walls.
LEED Credits: See how Geoweb® can help you reach your US Green Building Council (USGBC) LEED Credits confirmation goals.
The ATRA Key Advantage: In a recent side-by-side productivity comparison exercise, Geoweb sections connected with ATRA keys proved nearly three times faster than using a stapler/staples. Other ATRA Key benefits & the outstanding comparison results are available in the ATRA Key clear advantage link below. A video will be placed on the website soon showing live footage of the exercise. Input we've received from the field also confirms the benefits of using ATRA Keys instead of stapling. Connecting Geoweb Panels: There are two methods to connect Geoweb sections. The ATRA® Key & the Stapling method were compared in a side by side test. The results highlight the ATRA Key option as the clear advantage. Also available: ATRA Key Brochure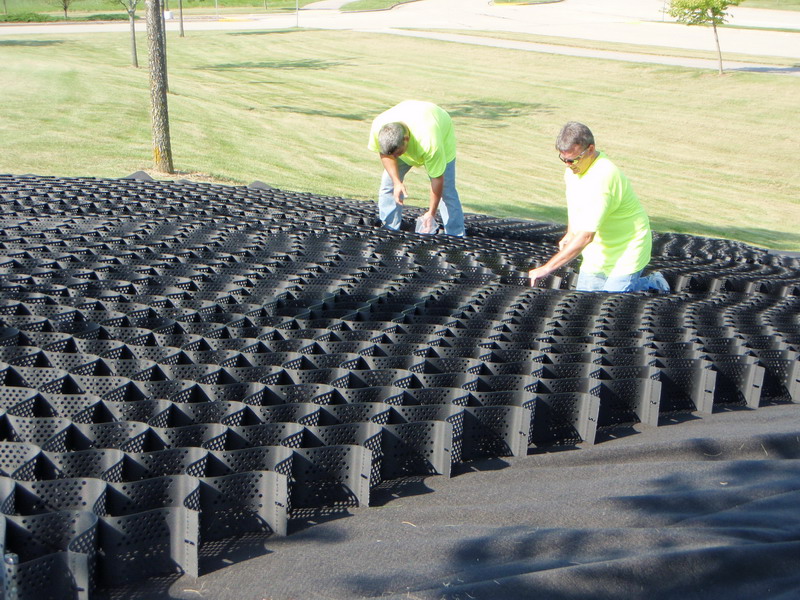 There are significant benefits over stapling Once you use the keys, you won't want to go back to stapling.
ATRA Key advantages
3 times faster than stapling.

3 times stronger than stapling.

Only 1 laborer required per Geoweb connection point vs. 2 for stapling.

No equipment downtime for stapler reloads, jams.

Comparison Video: ATRA Keys vs. Stapling

GEOWEB ATRA ANCHOR with ATRA DRIVER video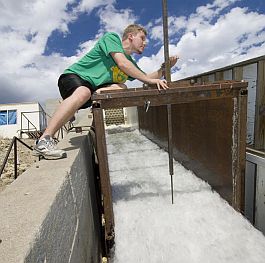 Geoweb® / TRM High-Performance Vegetated Solutions
Impressive results from the Geoweb/TRM vegetated infill research for rip rap replacement in channels / drainage ditches, vegetated dams / spillways, and vegetated channel lining systems.
Research Performance Results
The Geoweb/TRM system was exposed to varying shear stresses and flow rates for channels with average velocities up to 26.5 ft./sec. The Geoweb/TRM combined significantly exceeds the limits of separately reported values for both the Geoweb and TRMs.
View the Geoweb/TRM System Brochure: http://www.geocheminc.com/pdf/Presto_Geoweb_TRM_Vegetated_Research.pdf

Geoweb® Benefits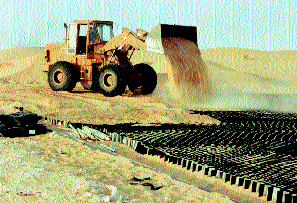 A variety of local infill are available. Geoweb® protects vegetative root zones, provides a flexible form creating a series of expansion joints for concrete infill and dramatically reduces road base thickness when compared to conventional designs. Geoweb® is ideal for installation in remote or restricted access sites and provides flexible, durable protection. Geoweb® gravity and composite retaining walls can be designed to almost any requirement. Geoweb® strengthens structural fills while differential and total settlement is significantly reduced. Geoweb® reduces pavement deflection, rutting and maintenance costs. Geoweb® is lightweight and packaged in compact bundles for easy shipment.

Textured and Perforated Geoweb® Cell Walls
The Geoweb® Cellular Confinement System consists of solid, textured or perforated cell walls. The textured Geoweb® has diamond shaped indentations molded into the surface of the cell walls significantly increasing the frictional interlock between the surface of the cell and the infill material. The Perforated Geoweb® Cellular Confinement System provides optimum frictional interlock between cell walls and concrete, stone or vegetative infill materials while significantly improving drainage characteristics of the designed and integrated Geoweb® Cellular Confinement system.
GEOWEB® System Components
We have created multiple Simplified Installation Guides for each of our most common GEOWEB® Cellular Confinement System applications.

Three Versions Each for Slope Protection
Three Versions Each for Channel Protection
Two Versions for Earth Retention
One Version for Load Support
Geoweb® & Geoblock® Design Assistance
GeoCHEM will provide design assistance on specific Geoweb® projects with local professional engineers familiar with site soils and project characteristics. GeoCHEM will also provide comprehensive construction specifications, drawings, installation instructions, design software and on-site technical support for the following Geoweb® applications: Slope Protection | Earth Retention | Channel Protection | Load Support
[Contact Us] for design assistance, specifications and/or technical field support and representation. Geoweb® Cellular Confinement Systems; "Solutions for An Unstable World.
Submit Geoblock® and/or Geoweb® Project Information: Submit Project Information
Project information will be placed in Presto's Project Library as reference and will be considered for case studies and/or magazine editorials

DOWNLOAD THE PRESTO GEOSYSTEMS RESOURCES APP:
---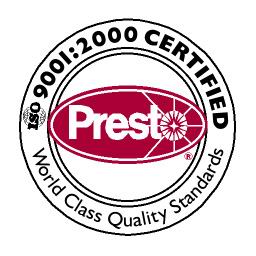 ISO 9001:2000 CERTIFICATION - Higher Standards